Aleksanteri Aaltonen
Why hand out business cards when you can just tell people to Google you?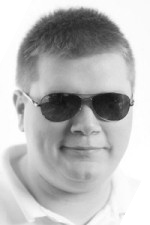 Me! Me! ME!
- 32-year-old technology geek from Helsinki, Finland.
- Forever a student at the University of Helsinki, CS.
- Senior Solution Architect at Innofactor.
- Several relevant Microsoft certificates.
- Native in Finnish and fluent in English.
- Average in Swedish and German.
- Co-owner of a Saluki.
- Self-admitted auto enthusiast.
- Married, no kids.
- Kind of Jack of all IT trades, even master of some!
[+] Some skill highlights according to me and my peers (i.e. keywords)

Get even more of me!
Personal stuff on Facebook for friends and family.
Rants and nerdy tech stuff on Twitter for everyone.
Professional networking on LinkedIn.
..or just come play with me on Xbox LIVE.
tel. +358 400 967 020 / aleksanteri@aaltonen.eu
© 2016 All rights reserved. The content and opinions expressed on this personal site are mine and do not necessarily reflect the opinions of my employer or anyone else. Privacy policy: I'm also into data mining.